Worldbuilders 2021 Fundraiser
Building a Better World
Worldbuilders is a charity founded by Pat Rothfuss that works to harness the enthusiasm and kindness of the the geek community. Since 2010, we've raised more than $15,000,000 for various charitable causes, and given away over half a million dollars of books, games, and other prizes to the community. We host events and foster a community where people can gather and share their joy while raising funds in order to make the world a better place.
By partnering with established non-profits with decades of proven success like Heifer International and Mercy Corps, we're able to have a huge impact, bringing about long-term sustainable change to the lives of people all over the world.
For more than 70 years, Heifer International has worked to improve education, sustainable agriculture, and local industry all over the world.
They don't just keep kids from starving, they help people care of themselves. They give families goats, chickens, and sheep so children have milk to drink, eggs to eat, and warm clothes to wear. They provide communities with clean water to drink, building materials to improve homes, and business training to help families become self-sufficient.
Education Is Key To A Brighter Future
Ruth Dewu is part of a tree-planting committee in Chiponde Village in western Malawi. She and other members of the committee have been planting fast-growing Senna Siamea trees that can be tapped for firewood and building materials after only five years. They need to patrol the field day and night — keeping it weeded, but also making sure the trees, a precious commodity, aren't stolen.
Southeast of Chiponde, In Gideon Village, Sharon Nkhoma uses a bucket and wooden wedges to craft a portable stove in about 10 minutes.
"I learned to work extra hard from my parents," she says, "because without sweat you won't gain anything." Introduced during the Kasungu Heifer Project, the stoves, which sell for 800 Kwacha (About $6), have been distributed to every family in Gideon as well as leaders in neighboring villages. The women carry the 15-pound, pumpkin-sized stoves on their Hheads.
In addition to providing Nkhoma a steady source of income, the portable clay stoves are much safer to use than a traditional fire because they are contained. They also use only a third as much fuel, saving the women and children charged with collecting firewood time that can be spent harvesting crops or doing schoolwork.
Education is key to a brighter future for the children in Gideon Village, and Werengani Banda knows his eight children will have a better life than he had. Since he was 16, he would join other men for bi-weekly 12-mile hikes to Kasungu to hunt after dark so their families wouldn't have to subsist solely on vegetables.
Now 62, Banda says he was glad to give up poaching to raise goats. "It's a lot of work to hunt," he says. "Goats stay in one place." He now spends his extra time growing maize and sunflowers, his bow and spear happily retired and dulling.
Neighboring Heifer Communities Come Together To Help Families In Need
When a wind woke Noel Apan on December 4, 2012, he wasn't worried. Typhoons always hit farther north than his village of Sayon. He even joked with his family, saying, "How's the wind?"
Seven hours later, Apan, his wife Rosalyn, their two children and over 400 other families already involved with Heifer projects had been hit by Typoon Bopha, losing homes and livestock. Word of the damage reached neighboring Heifer communities, and in just 10 days, Heifer was able to provide each family with corrugated iron roofing, 100-pounds of rice, dried fish, canned goods, and instant coffee. All the supplies came from neighboring communities.
Apan and his family lived in a tent and under tarps until December 26. He and his brothers were able to save about 75 percent of the wood and other materials from his home. Shortly after the storm, his sow had two piglets. Apan sold them and used the money to buy material and rebuild his family's home. He saved the rest to pay for his children's schooling. Apan has started working again on his rice farm and as a motorcycle taxi driver, and though his future is not yet secure, he still has his pig. "The pig is a big help for us. It's part of our livelihood. I treasure the pig because it's a gift from another family." He says he is grateful to have the pig as a resource and he looks forward to passing on future piglets and training to other families so they can become resilient, too.
The Difference A Simple Sheep Can Make For A Community
Twenty families in Bonjisnthiang received sheep from Heifer International in February 2012. Working in concert with Heifer, partner organizations addressed agriculture, irrigation, and education, and provided a market model to connect farmers to the local economy.
Kumba Daranjaay, the president of the farmers association, spearheaded her community's efforts to become part of the Usaid feed the future project, working with the group for five years before the delivery of the sheep.
"When you are poor," she said, you will never neglect the sheep because they are a way to move forward. You know how bad poverty is, and you don't want to go back. The sheep will help us feed our children and take care of their health."

By the end of the project, 5,500 families will receive animals and training from Heifer, with thousands more benefitting when those families pass on the gift of their livestock's offspring.
Before the sheep arrived in bonjisnthiang, a technician from the project worked with local farmers to train them on growing methods and give them seeds for new vegetable varieties. "In the past," said local farmer Fatou Mata Julde Ba, "many families didn't eat vegetables because they could not buy them. But now, we produce them ourselves. We even have enough to sell, sometimes."
Lots were drawn to distribute the sheep fairly among families, and with the lessons on how to care for their new sheep fresh in their minds, the recipients led the animals home to already-assembled pens, stores of dried grass, and new lives.
Four Hens and a Rooster
Ndiolle Faye For years, Ndiolle Faye's family lived in poverty, earning what they could from their small farm. They struggled to get two meals a day, and often those meals were nothing but millet.
Faye was unable to go to school as a child, and though she desperately wanted to send her children to school, there was never enough money.
Then Faye joined the Wax Bakh Self-Help Group. Heifer International gave her training, help building a hen house, four hens, and a rooster.Using what she'd learned, Faye quickly grew her flock to over 150 birds. In less than two years, she had sold more than 100 chickens.
She invested that money in livestock, diversifying her farm, bringing in more money, and with manure to replenish the soil, her crop yields went up 20%. With more financial security from her business selling chickens, Faye is able to keep the harvested produce to add nutritional diversity to her family's meals.
Now, two years after receiving chickens, her family eats three nutritious meals every day.
Now Faye is able to send her children to school. She no longer worries about affording their education, knowing she can always sell some of her flock to pay for school fees and supplies.
Faye regularly shares her training and gives starter flocks of birds to over 11 local families, helping them along their own path to financial independence and food security.
Prizes
For every $10 you donate during the Worldbuilders fundraiser, you'll get a chance to win something from our prize draw. Over $100,000 of delightful geeky swag: Books, comics, games and more.
That means if you donate $20, (enough for a flock of chickens) your name goes in twice. Donate $60, enough for tree seedlings, and your name goes in six times. Donate enough for a goat ($120) and your name goes in 12 times.
What's in the lottery? A lot. So much that if I showed it to you all at once, the raw intensity of the aggregate awesome would cook your brain like a toad thrown into the sun. But if you want to risk it, you can see details about prizes
Teams are groups of folks that band together for the greatest adventure of all: helping others! During the Worldbuilders EOY Fundraiser we'll be highlighting different teams that are helping make the event a success. Teams can be any shape and size and even offer their own unique stretch goals and special events. Check out each team page to get the lowdown on what they're offering!
Featured Team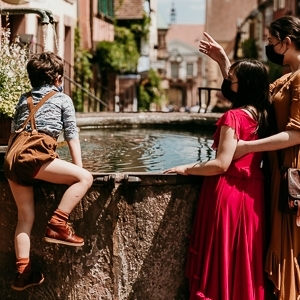 Tell A Friend Telethon
$3,391 raised (67.82%)
The Tristan Family is back again to share their love for Worldbuilders and nonsense! Help us raise $5000 to make the world a better place by donating, sending in silly videos, and telling all your friends!